Ερωτήματα προτύπων σε βάσεις σημασιολογικών τροχιών με χώρο χρονικά και λεκτικά κριτήρια σε υβριδικές R-Tree δομές στο Graph ΣΔΒΔ Neo4j.
Spatio-Temporal-Keyword Pattern queries with hybrid R- Tree indexes in Neo4j Graph DBMS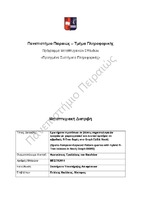 Author
Γρυλλάκης, Φραγκίσμος
Date
2014-11-18
View/Open
Abstract
The increasing use of devices with GPS capabilities has led to the need of storing and managing large amounts of spatiotemporal data that can be used by appropriate services and applications for the export of useful information. The information discovery requires definition of appropriate data structures, such as semantic trajectories, in order to enable effective management of the spatiotemporal data and the implementation of appropriate queries for data mining. A semantic trajectory has consecutive sequences of sub-trajectories of a user that can be classified as a section of movement or non-movement, depending on whether the object at that time was moving or not. The creation of efficient database queries for semantic trajectories searching requires finding appropriate data miming algorithms for the extraction of movement information that they take into consideration the large volumes of information of this particular form of data. An important category of these mining queries are the spatiotemporal keyword pattern queries that are essentially sub-trajectories regular expression search with spatiotemporal and keyword constraints. For the effective implementation of spatiotemporal keyword pattern queries it is necessary to create efficient index structures that take into account the triple nature (textual and spatiotemporal) of these queries. In this thesis with the use of Neo4j graph database a R-Tree hybrid index was created to address these queries, based on the R-Tree spatial index of the Neo4j spatial library. The index has a hybrid form that combines a spatiotemporal and text index tightly such that both types of information can be used to prune the search space simultaneously during the spatiotemporal keyword query processing. The textual index is using the open-source library Lucene, written in Java that uses inverted indexes for search and retrieval from text collections. After the presentation of the hybrid index appropriate algorithms for the query are analyzed. These algorithms are using different variations of the hybrid R-Tree index in order to address effectively and efficiently the spatiotemporal keyword pattern query.
Postgraduate Studies Programme
Προηγμένα Συστήματα Πληροφορικής
Department
Σχολή Τεχνολογιών Πληροφορικής και Επικοινωνιών. Τμήμα Πληροφορικής
Number of pages
149
Language
Greek
Collections