Μελέτη για το βαθμό ικανοποίησης την μεταναστών από το ελληνικό Εθνικό Σύστημα Υγείας.
A study for the satisfaction level of the migrants for the access to national health system in Greece.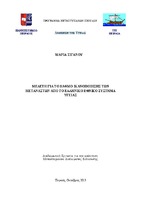 View/Open
Abstract
Immigrants are deserve special attention as they have special features and needs compare to the rest of the indigenous population. They constitute a very sensitive social group, which means that they face an increasing danger of social exclusion. The access of immigrants to health services is one of the most important factors, which contributes to their integration into the society of induction. The purpose of this study is to record and evaluate the degree of satisfaction of immigrants as far as the provided health services are concerned. The evaluation of the degree of satisfaction is examined in conjunction with demographic and socio-economic characteristics of the participants, as well as with the characteristics that are related to their so far personal experience with the National Health System in Greece. The research was conducted from March 2012 to May 2013, based on a very specialized questionnaire. The sample of the research comprises of 126 'first-generation' immigrants on legal permit of residence in Greece, who lived in the prefecture of Attica. It is panel study as it includes the dimensions of immigrants (N=126) and 'time' (2009-2011). The methodology of the sampling was based on the form of "snowball sampling" and the statistical analysis of the data was conducted with the use of the statistical program Stata (ver. 11), while the editing and the statistical analysis performed using probit estimation techniques. The demographic and social variables - particularly the variables of gender, 'understanding the Greek language', 'education', 'participation in the community of origin' and 'insurance' - the variables of 'health' and specifically 'long-term diseases' and the variable of 'trust' are found to be highly related with immigrants' satisfaction degree from the Greek health system. Health is a fundamental, human right and immigrants' access to health services is essential not only for their instant and effective treatment of their health problems and the improvement of their lives but also for the ensuring of public health in Greece. In order to properly incorporate immigrants in Greece in particular, one needs to pay attention to the aforementioned factors.
Language
Greek
Collections