Τα λοιμώδη νοσήματα: η αυτονομία του ασθενή και η προστασία της δημόσιας υγείας.
Infectious diseases: patient' s autonomy and public health protection.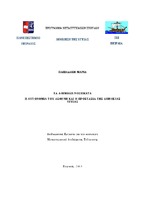 View/Open
Abstract
In medical practice, one of the highest rights is patient autonomy. Specifically, the patient has the right of consent after a full clear and adequate information for each therapeutic intervention proposed by the physician. However, if the individual decisions, such as a patients who is suffering from an infectious disease, may affect directly or indirectly the health of others, thus threatening the right to public health, the state is faced with a dilemma. First, it is required to challenge the patient's autonomy as the only criterion for decision making, and to protect public health without affecting the core of the right. This paper discusses the limits of patient autonomy when it comes into conflict with the public health and thus the protection of the public interest, both from the perspective of decision-making institutions, and from the perspective of the practice of health professional. After providing an initial overview of epidemiological data on infectious diseases in Europe and Greece, the constitutional right to health, the patient's right to autonomy and confidentiality and the ethical dimensions of the contraction of these rights for reasons public interest and public health are analyzed.. The findings demonstrate the need to reconcile the protection of the public interest and the autonomy of the patient, on behalf of the state and the daily practice.
Language
Greek
Collections