Η παραγωγικότητα των εργαζομένων στις μονάδες υγείας και η σχέση της με την υγεία τους.
Employee's productivity in health units compared to their health related quality of life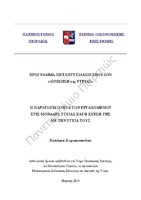 Author
Κυριακοπούλου, Βασιλική
Date
2014-11-07
View/Open
Abstract
The productivity of employees is determined through qualitative factors such as the intensity of effort and the quality of work. Investing in employers' health positively affects productivity and life expectancy. The purpose of the present paper was to examine the productivity of employees in health units regarding compared to their quality of life. 98 people participated in the research. They were members of the medical and nursing staff of the Maternity Obstetrical Clini – IASO. The researcher made a quantative research. The research tool was a questionnaire that was a combination of the questionnaires Health-Related Quality of Life και Work Productivity Questionnaire (HQWP). The aim of the study was to examine the relation between the quality of life and the health with productivity at work in a general labour environment. The questionnaire that was used measures the quality of life that is related with the health, different aspects of quality of health, productivity according to general health, presenteeism and absenteeism, as well as the amount of overtime the employees are asked to do. The results of research showed that the employees did not face any health problems and their physical condition was at the same level as the previous year. itself Their emotional condition was also in a good level. The results indicated that employees are feeling worked out and exhausted. There were no indications for systematic absence from their work. Their exhaustion did not seem to influence negatively their productivity, only their personal and social life. Generally in order to improve employees' productivity it is recommended to apply programs that support human resources development aiming at healthier and more competitive human resources with qualitatively and quantitatively results.
Postgraduate Studies Programme
Οικονομικά και Διοίκηση της Υγείας
Department
Σχολή Οικονομικών, Επιχειρηματικών και Διεθνών Σπουδών. Τμήμα Οικονομικής Επιστήμης
Number of pages
114
Language
Greek
Collections