Οργανωσιακή κουλτούρα και διοίκηση ανθρωπίνων πόρων στον τομέα της υγείας (μια προσωποκεντρική θεώρηση).
Organizational culture and human resources managementa in the health sector (a person-centered approach).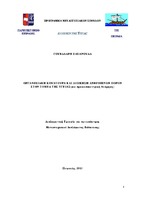 Author
Γουβαλάρη, Ζαχαρούλα
Date
2015-02-03
View/Open
Abstract
As part of the monitoring of the Master program " Management of Health " was held to prepare compulsory dissertation in order to complete a literature approach, which was dedicated to " Organizational Culture and Human Resource Management in Health sector ( a person-centered approach ) ."Through reading a considerable extent into corresponding references , but from my experience recording the clinical picture , strove to convey the importance of the concept of health and organizational culture that is created in a health organization . Effects , the problems and the advantages brought about in human resources culture that implement this synthesis , prefixing and analyzing a potential humanitarian model of implementation and consolidation. More specifically , recognizing the shortcomings faced by health organizations in our country, at multiple levels , ideological , cultural and political, economic and technological establishment , we emphasize the necessity of change in standards from the inner emotional ability of the managers , workers , and then the patients in hospitals. Here's a full description of the anthropocentric approach , observing the strengths you need to invest , to cultivate and to accept that he has constructive administration. Manpower learns to experience its power through the process management team , emotional maturity , and supervision to transform , develop and release their creativity and skills to help. Strengthened and intensive training programs preceded within hospitals are those which reinforces the experience in a culture maturity and self-realization .
Language
Greek
Collections