ΜΜΕ και υγεία: ανασκόπηση ημερήσιου έντυπου 2008-2010 και τομέας υγείας στην Ελλάδα.
Mass Media and health: review 2008-2010 daily printed press and health sector in Greece.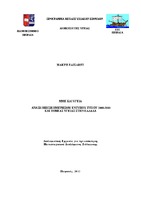 View/Open
Abstract
This thesis attempts to examine the way that reflected the issues concerning the health care through media and especially through the articles of the printed press. There is no doubt media play a dominant role in our lives, they act as a channel of communication among citizens, government health policy and health professionals. The National Health System in Greece, with the lingering pathologies and dysfunctions, gives plenty of material for articles almost on a daily basis. Meanwhile, the development of medical science and the public's need for information on healthcare services, created a suitable ground where phenomena as "medicalisation" and "disease mongering" growth to triumph of the "health industry". The question is whether journalism and publishing companies manage information-news morally ad reflect reality without the intention of misleading and exarrerating. This work in its theoretical part analyzes the importance of health information and examines the power of media and its distortions, deliberate and often directed, affecting public and cause confusion or lead to induced demand health services charging the already battered and weak National Health System. In the second part of this work, through the collection of a number of articles, recorded and analyzed with the OECD' s model, the System of Health Accounts. The survey results show that the sector of health in Greece requires direct and active interventions. Although the two selected newspapers for our study expressing opposing political spheres, they recorded - with only minnor variations – the same problems with the same way, which means the problem is a fact.
Language
Greek
Collections