Αξιολόγηση των προγραμμάτων της συνεχιζόμενης νοσηλευτικής εκπαίδευσης και ανίχνευση των εκπαιδευτικών αναγκών νοσηλευτών δημόσιου νοσοκομείου.
Evaluation of the programmes of continuing nursing education and nurses learning needs detection.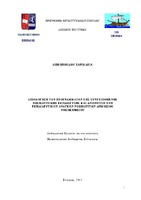 Author
Δημοπούλου, Χαρίκλεια
Date
2014-11-03
View/Open
Abstract
The objective of this research was to record the attitudes of nurses towards continuing education and to explore how nurses themselves understand the usefulness of continuing education and to identify the factors that lead to participation or no to continuous training programs and education. Furthermore this research intends to record their preferences with regard to the areas they would like to be trained more and the method of learning that would facilitate such a process. Method: Originally performed an extensive literature review to cover the theoretical part of the concept of continuing education, and then a research field (collection and analysis of qualitative data) held by using a structured questionnaire given to nurses at Konstantopouleio General Hospital, Nea Ionia. A total of 100 questionnaires were distributed and returned 70, (70%) response rate. The purpose of the questionnaire was to determine nurses' attitudes towards continuing education as well as to identify the areas that they wanted to be more educated as well as to assess the benefit they had from attending such programmes. The questionnaire was constructed by the researcher specifically for the research purposes of this study, and distributed to the nursing staff of all levels. The statistical analysis of the data has been performed with Microsoft Excel 2007, by grouping the responses and their presence in the form of percentages. Results: With regard to the demographic characteristics of the sample, 91% of participants were women and just 9% were men. Their age ranged from 25-40 years (54%), with average work experience 15 years, 65% were graduates of TEI and 24% hold Postgraduate diploma (Master Degree), 97% believe that continuing nursing education must be compulsory, 76% have participated in training programmes in the past, and 55% believe that their current knowledge is not enough for their work requirements, 39% prefer to be educated in groups and 33% with the new technologies (P/C). Conclusions: Nurses recognize the significance of continuing education and wish further education in order to meet the emerging challenges. The 46.43% of the participants have attended educational programmes, mostly based on their own interest. The 75% believe that with continuous education, you gain new knowledge, skills, and expand your professional horizon. It seems that nurses must renew their existing knowledge and their skills and develop new ones in a health system that is constantly changing and becoming more complex and demanding.
Language
Greek
Collections