Εκπαιδευτικό λογισμικό για το μάθημα "Εισαγωγή στην Πληροφορική"
Educational software for the module "Introduction to Informatics"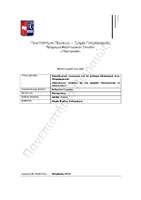 Author
Γερμόλα, Ανδριάνα Π.
Date
2014-11
View/Open
Abstract
This dissertation aims to contribute to the demand of the modern educational practice for enhancement of the learning processes via the informatics technologies in education. This contribution is achieved by the development of educational software for the teaching of the module "Introduction to Informatics". The produced Online Education Platform is a complete resource for the specific module acquisition, as it provides students with the opportunity of participating in the educational process. The platform enables the teacher to edit students' personal information, introduce and edit theories, examples as well as various exercises, tests and revision exam papers. Moreover, the teacher has the ability to check the students' progress so as to recognize their weaknesses and provide them with support. Furthermore, the platform offers the teacher the opportunity to underline the most important points of the theory so that the student can mainly focus on them. Other possibilities include the printing and save of the theory or only some sentences and phrases in order for the student to be able to effectively revise and assimilate the most significant points. Finally, the multimedia content included in the educational material helps in the better understanding of the theory.
Postgraduate Studies Programme
Πληροφορική
Department
Σχολή Τεχνολογιών Πληροφορικής και Επικοινωνιών. Τμήμα Πληροφορικής
Number of pages
122
Language
Greek
Collections