LNG bunkering : the most efficient solution to emissions standards regulation?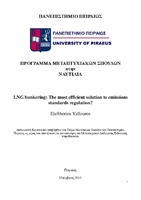 Author
Γιαλλούρος, Ελευθέριος
Date
2015-11
View/Open
Abstract
Liquefied Natural Gas (LNG) is a potential solution for meeting new legislation that will significantly limit sulphur emissions from ships, firstly in North America and northern Europe in 2015. The shipping industry is increasingly interested in what role LNG will play in the marine fuels market and when. This dissertation looks at the advantages and challenges to LNG bunkering by examining the current situation and exploring the probability of LNG displacing oil as the preferred fuel in shipping. The uptake of LNG as a fuel will depend on a host of developments and prerequisites such as how bunkering infrastructure and technology proceeds. The development of LNG as a bunker fuel in the immediate future - not in the long term - is also examined.
Postgraduate Studies Programme
Ναυτιλία
Department
Σχολή Ναυτιλίας και Βιομηχανίας. Τμήμα Ναυτιλιακών Σπουδών
Number of pages
90
Language
English
Collections