Επιχειρησιακός σχεδιασμός υγειονομικών μονάδων : το επιχειρησιακό σχέδιο του Γ.Ν. Παίδων Αθηνών "Π. & Α. Κυριακού"
Business planning in health units : business plan of Athens General Hospital for Children "P. & A. Kyriakoy"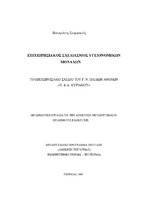 Author
Σταμπουλής, Παναγιώτης
Date
2007
View/Open
Abstract
Hospitals perfectly reflect the quality of the National Health System of Greece. In order for the system to operate properly, it is required that high quality services are provided. These institutions face serious problems both in Greece and other countries. In the past few decades, business planning, which is an essential tool for the administration of health units, has been introduced to the domain of health services in Europe and the US. In recent years, Greece followed suit. In the context of this planning, the manager sets targets, uses SWAT analysis techniques, devises the plan of action, makes yearly projections, applies the business plan, controls and evaluates the results. The business plan refers to the law 2889/2001, which established the Peripheral Health Systems, their administrators and the administration committees in hospitals. The General Children's Hospital of Athens "P. & A. Kyriakou" constitutes a characteristic example as a central hospital with many diverse problems. There is a case for illustrating the reality at this institution, the fundamental aspects of which are the economic administration and the lack of employees. There are also proposals which will lead to improving its image and its economic status, as well as to its proper function.
Postgraduate Studies Programme
Οικονομικά και Διοίκηση της Υγείας
Department
Σχολή Οικονομικών, Επιχειρηματικών και Διεθνών Σπουδών. Τμήμα Οικονομικής Επιστήμης
Number of pages
60
Language
Greek
Collections