Παρουσίαση της υπάρχουσας κατάστασης στην διαχείριση ιατρικών αποβλήτων στην Ελλάδα και εναλλακτικών σεναρίων.
Presentation of the current situation in medical waste management in Greece and alternative scenarios.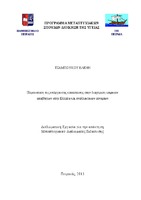 View/Open
Abstract
In this day and age the changes and challenges call for the integration of measures in the administration and function of enterprises which can fend off the negative effects on the environment and public health and the same time safeguard sustainable development. The management of Medical Waste (M.W.) is a major issue concerning public health and the environment, because of, last years the problem arising from the medical waste management is aggravated in all developed and developing counties. The agencies responsible for waste management in all nations pose stricter maximum rates for the pollutants deriving from the waste elaboration. Moreover, the rules for the hospital waste management become more rigorous. In this essay the different types of hospital wastes will be described according to the World Health Organization categories and the Greek legislation. The directive lines of the legislation are to minimize the waste quantities, the segregation on the source and also the safe management of hospital wastes for the public health and the environment. The continuous personnel education and the inspection of the hospitals and the elaboration centers will avoid any mismanage. Additionally, the technologies concerning the waste elaboration are very advanced nowadays offering different alternatives according to the waste features. These will help to upgrade the national network of elaboration establishments in a more effective, economic and environment friendly network. Moreover, the alternative scenarios for the waste management for the entity of the country will be analyzed. Those scenarios concern centralized management or local management inside hospital's facilities.
Language
Greek
Collections