Έρευνα και διάχυση γνώσης στην Ευρώπη.
Research and knowledge spillovers in Europe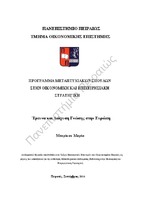 View/Open
Abstract
Nowadays, more than ever, many countries rely on the creation, dissemination and exploitation of scientific and technological knowledge, as a means of betterment (improvement) of economic growth and productivity. In the knowledge economy and in the knowledge society, investing in Research and Development is an option of high priority. Expenditures in Research and Development, as a factor of economic development, express one country's effort to create knowledge to spread it and as a result to exploit it economically. One of the basic policies of European Union for the improvement of competitiveness is the investment in Research and Development. Therefore, the financing of it, is considered as a prerequisite for the promotion of innovation, growth of the economic performance of countries and the greater improvement of living standards. Numerous studies have been done relating to the Research and Development. A major part of bibliography has to do with the influence of the investments in Research and Development to the economic development of a country as well as with the increase in competitiveness. Other studies have focused to the diffusion of knowledge and technology that can be created by the Research and Development. The present study was done, having, as main target to examine, how certain factors, as the GDP of the host country, the GDP of U.S.A., the population density, the employment in the Industry, the employment in Services, the exporting activity, the importing activity, the cost of transactions, the distance, the patents in U.S.A., the patents in E.U., the tendency and the Index "Beri", which measures the risk for one country's companies, define the American Investments, in Research and Development, in European Countries where they are addressed to.
Postgraduate Studies Programme
Οικονομική και Επιχειρησιακή Στρατηγική
Department
Σχολή Οικονομικών, Επιχειρηματικών και Διεθνών Σπουδών. Τμήμα Οικονομικής Επιστήμης
Number of pages
130
Language
Greek
Collections