Αιμοδοσία και κόστος παραγωγής μονάδων αίματος: η περίπτωση της αιμοδοσίας του Τζάνειου Νοσοκομείου
Blood bank and cost production of units blood: the case of the blood bank of Tzaneio Hospital.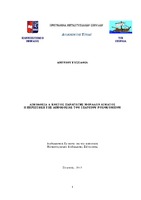 View/Open
Abstract
Adverse developments in recent years in national and global scale, particularly in the managerial-economic level have affected the overall health system resulting impact on blood donation services. The economic recession has led more than ever, the need to find solutions with the aim of saving blood and keep the costs of production. This has transformed the perception of blood and its usage, of the unlimited possibility of increasing costs in order to ensure safety and the wrong putative contention free allocation. This has triggered the development of this work, which was trying to calculate the cost of production units of blood from collection to storage, through the study of the blood bank of Tzaneio Hospital. Specifically calculated the cost of reagents, consumables, staff costs, depreciation, overheads use. The result of the study showed that the total cost is € 1.740.704,61, with the first factor cost blood testing at a rate of 63.65% and even that general control costs, the highest percentage 62.82% occupied molecular control (NAT), with the next virological control at a rate of 18.04%, control immunoheamatology at a rate of 15.81% and for the occasional control West Nile Virus (WNV) rate of 3.33%. Second concentration factor costs, represent the payrolls, with a percentage of 13.84%. Sequence exhaustion materials for realizing blood donation, with a 8.60%. Then depreciation, the cost of excursions, expenditure for Public enterprises and organizations and cleanliness, overheads use and maintenance, IT system and ISO certification in smaller percentages. The costing of units of blood results in the knowledge of the factors shaping its cost, in order to reassess the structure of the blood donation system, a fairer distribution of resources leading to fiscal balance. Provides policy-makers in blood reliable benchmarking data bases, including donations of both the country and internationally. Finally recovered identification information costs, which will be based on the planning, control and rational decisions.
Language
Greek
Collections