Η νομική και ηθική διάσταση της γενετικής ταυτότητας αναφορικά με την κλωνοποίηση και τις μεταμοσχεύσεις.
The legal and ethical dimensions of genetic identity regarding cloning and transplantations.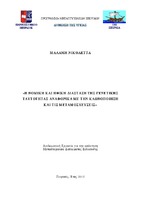 View/Open
Abstract
For several decades, advances in molecular biology related only to the understanding of basic biological phenomena, with no immediate prospects of practical applications. But in recent years we have witnessed an explosive growth of applications of these core knowledge with consequences that are hard to predict. The development of genetic technology and the completion of decoding the human genome showed a new area of interest for scientists, who understand the important role of genes. Simultaneously with the development of biomedical science, another area of intense moral and social reflection was created, the field of bioethics, which is extensively analyzed in this paper. The bioethics of cloning and transplantation includes a range of discussions in law, philosophy, medicine, social policy and human rights. Moreover, in the assignment is mentioned not only the Universal Declaration on Bioethics and Human Rights but also the European Convention on Biomedicine and Human Rights. The third and fourth chapter describes the concept, history and characteristics of cloning and transplantation, respectively, and analyze positions and views on these issues. Finally, there is a rough description of the Greek legislation regarding the cloning and transplantation.
Language
Greek
Collections