Κριτική αποτίμηση του Εθνικού Συστήματος Υγείας.
Critical assessment of the National Health System.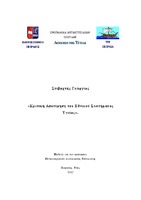 Author
Στιβαχτής, Γεώργιος
Date
2015-01-21
View/Open
Abstract
The aim of this thesis is to attempt a critical examination of the NHS as to the reforms made since it΄s establishment and onwards. Therefore, it focuses on the study of laws, presidential decrees and bills and generally on the health policy implemented by the governments and the health ministers. Besides, for the citizens and our country in the general establishment of the NHS is the first organized effort to provide health services of the state. The objective of this paper is to present the story of the health sector in Greece in terms of institutional development and in search of causes for the non-completion of specific reform plans. In the first chapter I present the basic definitions of the health and health system. In addition, we analyze the basic characteristics, goals and the health systems. At the end of the chapter I evaluate the performance and function of health systems. In the second section we give more emphasis on health systems and witness how they can converge. I observe the similarities and differences of various health systems and the need for reforms in health systems. In the third chapter of the thesis I describe existing the levels of care by paying special attention to historical developments in other countries as well as Greece. Moreover, I attemptan analysis of the problems that exist in both the primary and secondary-tertiary care. In the fourth and the fifth chapter of my essay, in an attempt to summarize of the historical development of health services in modern Greece we divide it into three major periods: From the National Independence until 1922, from 1922 to 1953 and from 1953 until today. As expected the third period can be divided in sub periods, from 1953 until 1981, from 1981 to 1989, from 1990 to 1999, from 2000 to 2004, from 2004 to 2009 and from 2009 until today. This distinction was made because the development of the health system of our country followed the general socioeconomic, cultural and political conditions that prevailed. The discontinuity in the pursuit of health policy in our country, is the key finding of the text, and is attributed to purely political factors such as lack of political will and the frequent alternation of ministers in ministry, and tactical errors in the design of health services, most notably the continuing attempt to implement foreign models in the Greek health system.
Language
Greek
Collections