Η ελληνική και διεθνής διάσταση της βιοηθικής σε ζητήματα ευθανασίας.
Greek and international bioethics views for euthanasia issues.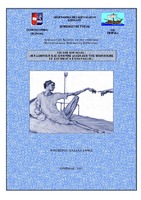 View/Open
Abstract
The present work is a thorough study on the highly controversial issue of euthanasia mainly on the part of bioethics science by making a detailed analysis of this diachronic issue, with a view to the emergence of some critical and useful findings. More specifically, the study begins with a definition of euthanasia, as found in both Greek and foreign bibliography especially with the legal form as in this way becomes better crystallized and more easy to understand. Additionally, on this point is attempted the separation of the term from other similar types of near-death acceleration process. Thereafter, reference is made to the historical development of euthanasia and the treatment of this issue from the scientific field of Law, Medicine and Theology, since it falls within the scope of the above mentioned sectors. Following, the dimension of bioethics on the question of euthanasia is presented as is perceived in Greek territory and in the international scene. Also, a comparative evaluation of different exposed optics showing their advantages and disadvantages of euthanasia in a critical and reflective way is conducted, in order to indicate the optimum approach of the eternal issue of interruption of life extension. Finally, this current study through the bibliography review makes some conclusions and highlights key social and institutional solutions that will contribute to the best deal of the issue of euthanasia taking into consideration the future challenges that the development of science and the transformation of society may bring. However it is a fact that we are in a period in which society expects from the scientific community, a minimum consensus over the issue of euthanasia and also some guidelines to form a safety frame of this procedure. A desirable goal for the present work is, if not to establish the basis for the unanimous acceptance of a single and uniform approach of euthanasia which is very ambitious and bold, at least to constitute a composition that arised from a good effort and to trigger a comprehensive theoretical background for the philosophical question of euthanasia.
Language
Greek
Collections