Ηλεκτρονικό σύστημα (barcoding) για την καταγραφή των χειρουργικών εργαλείων των Μονάδων Αποστείρωσης–Χειρουργείου.
Electronic system (barcoding) for the screening of surgical instruments in the Operation Theatre and Sterilisation Unit.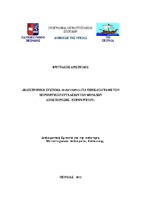 Author
Βρεττάκος, Αριστείδης
Date
2014-10-15
View/Open
Abstract
More than 10.000 surgical instruments every week enter a hospital's Sterilization Unit for their process. 450 surgical instrument sets daily are cleaned, controlled and sterilized. The progress of a surgical instrument is specific and considers the Operation Theatre Unit as well as the Sterilization Unit. Algorithms exist to provide safety sterilization measures, so to assure that multi-use surgical instruments enter the Operating Theatre with the correct specs (that means correctly sterilized and safer for the patients). Problems may be often observed in the screening of the surgical instruments separately or being in sets or about the date these instruments were purchased by the hospital. There is no absolute knowledge about what surgical instruments are contained in each surgical set, or when they were entered in the Operating Room, or by which companies they were supplied. This results that anyone engaged trafficking these instruments to waste valuable time tracing them, to be unaware if these sets are fully and correct equipped. Also to be unable to assure if a surgical instrument is new or old. Everything mentioned above, produces large time waste, so anyone working in the sterilization section is consumed in procedures that should be considered routine. Aim of this paper is to suggest an automatic coding system for the surgical instruments that permits in each surgical instrument to have a single number-code. This code contains information concerning when the instrument was bought, when it "entered" or "exited" the Operation Theatre Room, who is responsible for packing and sterilizing it and when it occurred (if occurred) any damage or technical problem (control from the technical support of the supplier company). It will be presented analytically how this procedure will be a success with the use of scanners, as well as the use of a simple low budget informational system.
Language
Greek
Collections