Μελέτη της ηλεκτρονικής συνταγογράφησης και η διερεύνηση της εφαρμογής της στην Ελλάδα: Ο.Α.Ε.Ε. Περιφέρεια Πελοποννήσου.
Study of electronic prescribing and its implementation in Greece: Ο.Α.Ε.Ε. region of Peloponnesus.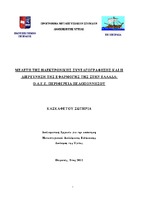 Author
Κασκαφέτου, Σωτηρία
Date
2014-10-13
View/Open
Abstract
The purpose of this study is to determine the change in pharmaceutical expenditure after the implementation of electronic prescribing and to record the opinions of health professionals for this measure. The study includes the record of pharmaceutical expenditure statistics based on OAEE (Insurance Agency Self-Employed) in the Peloponnese region, for corresponding periods of six months before (11/2009 - 04/2010) and after (11/2010 - 04/2011) the application of electronic prescribing and data collection for the views of health professionals, doctors and pharmacists, that are contracted with OAEE in Peloponnese region, using a questionnaire during the period July - August 2011. It was ascertained that: a) the majority of doctors believes that e-prescribing increased their working time, b) the majority of pharmacists considers that errors in prescriptions were decreased and c) the implementation of electronic prescriptions was more acceptable by pharmacists than doctors. In addition, complaints were reported as regards the questionnaire and specific suggestions in order to improve the speed and reliability of the system, automation and self-control, the database and the option to cancel or correct the prescription. In the study of OAEE statistics, was found a decrease of the number of prescription drugs per prescription, a reduce at the initial cost, the participation of members and the participation of OAEE per prescription, and a possible a decline of drug expenditure by reducing the volume of drug consumption which resulted from the application of electronic prescribing. The survey results prove a positive impact of electronic prescribing on the health system both by reducing errors in prescriptions and pharmacy costs. Furthermore, through the study can be clear that the full effectiveness of the measure requires the identification of errors and failures of the system so that the implementation of electronic prescribing improves as more as possible.
Language
Greek
Collections