Measuring diversification benefits of european equity portfolios: the effects of EMU on country versus sector allocation strategies.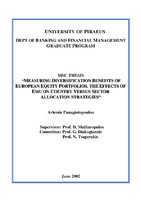 Author
Παναγιωτοπούλου, Αρτεμις
Date
2002-12-01
View/Open
Abstract
Diversification helps investors to reduce the risk of an investment while holding the expected return constant. Portfolio risk can be reduced through diversification since returns on individual assets are iperfectly correlated with each other. The study proceeds as follows. In Section 2 there is a description of the effects of EMU on portfolio diversification. Section 3 describes the basic principles of portfolio theory. Section 4 provides an overview of the existing literature on country versus sector portfolio allocation strategies. Section 5 describes the data and the methodology which is applied. Section 6 reports the empirical results and finally Section 7 concludes.
Language
English