Μακροχρόνιες ενεργειακές συμβάσεις και κανόνες ανταγωνισμού της Ε.Ε.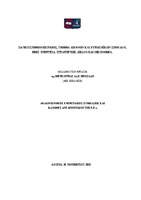 Author
Πραχάλη, Μερκουρία Λ.
Date
2015-11
View/Open
Abstract
The liberalization of the energy market in Europe is not yet complete. The road towards the creation of an energy union in line with EU competition rules has to face many obstacles, including the high degree of concentration that is observed in the en-ergy market, the vertically integrated market players and the distortions that occur in competition. The balance of the conflicting requirements and business interests was inevitable during the effort of the EU to install a common European and national framework for the creation of a European energy market. As a result, the liberalization of the natural gas and electricity market, which is still in progress with the adoption of the three energy packages and the application of the EU competition policy, is opposed to long-term energy contracts, which tradition-ally has been used in the European energy market. More specifically these contracts ruled the upstream market, where the well-known concentrated energy providers ref-uged the access to the new players, as well as the downstream market, where the con-sumers did not have the flexibility to choose their provider. However, long-term energy contracts have often ambiguous effects on competi-tion, investments and consumer benefits and more often turn out to be an insurmount-able barrier to grant a Third Party Access to the energy market. As a result, the portfo-lio of the long-term energy contracts and the unfairness control of their clauses due to the three energy packages and the fundamental provisions of Articles 101 and 102 TFEU, constitute a priority for the European Commission and the national competi-tion authorities. The European Commission has occasionally defined the strict conditions under which the legal assessment of such clauses shall take place in critical decisions issued in law cases, where the Commission proceeded to the analysis and interpretation of the provisions on its competition policy and their relation to long-term energy con-tracts. One such decision concerns Distrigaz (2007), but challenges still exist today. Some of the criteria used for the legal assessment due to the liberalization of the ener-gy market of the existing in the long-term energy contracts clauses, and in particular the ToP clause, where the real challenge is, are, among others, the duration of the agreements, the position of the supplier in the relevant market and his total share com-bined with the structure of the relevant market (relevant market) etc .. In any case, although the implications of the long-term energy contracts to the EU competition policy are ambiguous, they still serve the need of energy supply and beside their negatives, also have multiple benefits for the contracting parties and espe-cially for the consumers. But despite the objective of the EU to create a competitive energy market, the European Commission showed for a long period of time tolerance towards such LTC agreements, by not adopting any decisive measures for their re-striction. What is the actual "antitrust" dilemma?
Postgraduate Studies Programme
Διεθνείς και Ευρωπαϊκές Σπουδές
Department
Σχολή Οικονομικών, Επιχειρηματικών και Διεθνών Σπουδών. Τμήμα Διεθνών και Ευρωπαϊκών Σπουδών
Number of pages
66
Language
Greek
Collections