Ασφάλιση κινδύνων και εμπειρική διερεύνηση της ιδιωτικής δαπάνης υγείας.
Risk insurance and empirical investigation of the private health expenditure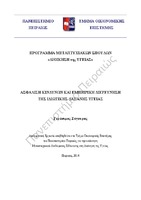 Author
Ζύγουρας, Γεράσιμος
Date
2014-10-31
View/Open
Abstract
Risk is an integral part of people and companies' daily life and it is not subject to the control of the power, the thought and the willingness of human being. Insurance is the most effective way facing the risk. In the frames of this paper, there is an effort of a presentation of the private insurance institution, its importance in the modern society, the solvency' s directives (Solvency I & II) and the way that private health expenditures are affected. In the theoretical overview of the subject (chapters one to three), there is a presentation of the basic elements of risk and the alternatives methods of risks management, the private insurance meaning and basic characteristics, as well as its importance at the economic and social environment. A presentation of the physiognomy and the size of the Hellenic insurance market follow, as well as a comparison to the corresponding European size. In addition, the basic legal principles concerning the private insurance and the importance of the Government Supervision are analysed, with an emphasis to the insurance companies' solvency legislation, basically the new EU directive called "Solvency II", that reflects the most recent evolution to the Government Supervision, the actuarial science and the risks management. The research part of this paper (chapter four), in which data come from the O.E.C.D.'s database are used, is an empirical valuation study over the way that the total health expenditure (as a percentage of GDP) funded by the private sector is affected by the number of general practitioners (per 1000 citizens), the number of specialist medical practitioners (per 1000 citizens), the total number of hospital beds (per 1000 citizens) and the number of hospitals (per 1000 citizens).
Postgraduate Studies Programme
Οικονομικά και Διοίκηση της Υγείας
Department
Σχολή Οικονομικών, Επιχειρηματικών και Διεθνών Σπουδών. Τμήμα Οικονομικής Επιστήμης
Number of pages
143
Language
Greek
Collections