Προοπτικές επένδυσης στη ναυτιλία: Περίπτωση των Product Tanker στην Αγορά της Ασίας.
The prospect of investments in shipping: The case of the Product Tanker in the market of Asia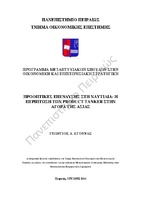 View/Open
Abstract
This thesis investigates and analyzes the market of product tankers in Asia. The target of this study is to gather all those information necessary for the creation and completion of an economic study whose main objective is to examine whether the launch of MR2 Product Tankers in TC4 route (Singapore to Osaka) and the wider region of Asia (as an alternative solution) could be a tempting investment for a shipping company. The first chapter consists of a brief reference to basic concepts and principles in order to define and clarify terms like shipping, maritime and economic cycles and maritime indicators. The second chapter analyzes the Asian market. In particular there is a thorough analysis of the economic data, the marine trade, the import and export volumes that take place in the region, as long as of the needs of both Japan and China in oil and petroleum products. The third chapter is dedicated to the market of tankers. It begins with a short presentation of what tanker is and its types and describes how the nowadays worldwide fleet of tankers has been formed. Furthermore it follows an analysis of the Product tanker market in terms of supply and demand and costs of purchase, operation and scraping through the time. Finally, in the fourth chapter are presented basic concepts of the economic study, the results of the four alternative investment projects as well as the final proposal and the conclusions of this thesis.
Postgraduate Studies Programme
Οικονομική και Επιχειρησιακή Στρατηγική
Department
Σχολή Οικονομικών, Επιχειρηματικών και Διεθνών Σπουδών. Τμήμα Οικονομικής Επιστήμης
Number of pages
166
Language
Greek
Collections