Αξιολόγηση επενδυτικού σχεδίου μιας νέας γυναικολογικής Μ..Χ.Θ.Δ. κλινικής.
Evaluation of investment of a new maternity hospital.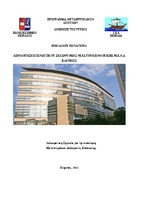 Author
Πουλάκου, Παναγιώτα
Date
2014-12-08
View/Open
Abstract
Investment is one of the most important factors for business development and expansion of the national economy because it expands the capacity of the economy and promotes the increase of production of goods and services. A particularly important sector for the Greek economy, with continued profitability and growth prospects both in Greece and abroad, is that of private hospitals. A Significant profitable piece of private health services are maternity hospitals, which are gaining ground, while total all private clubs turning to other activities such as rehabilitation centers and units of stem cells. As the economic downturn, it is promising that this does not invalidate, simply delays the development of private sector health services. The aim of this thesis is to develop the business plan for a new obstetric and gynecological clinic, the evaluation of the results arising from this, through the simplification of actual conditions, in order to make the investment attractive to potential investors. We define 2009 as the base year of the investment, due to the timing of the crisis currently affecting our country, and the time horizon of the investment is defined as the following two decades. Specifically, this thesis set out in detail the stages of establishment of a new private Obstetric Gynecology Clinic and attempts to evaluate it, using the usual criteria for investment. At the end of the process, the individual investor will derive an important tool so as to determine if the investment is profitable and make a decision.
Language
Greek
Collections