Η κοινωνική πολιτική, τα συστήματα υγείας και η επίδρασή τους στη δημογραφική πυραμίδα της Ευρωπαϊκής Ένωσης. = The social policy, the health systems and their reaction to demographic pyramid of the European Union.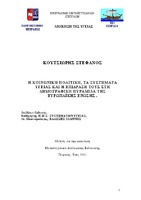 Author
Κουτσιώρης, Στέφανος
Date
2014-11-25
View/Open
Abstract
This study attempts to examine the impact of social policies on demographic changes, which come about through reforms of the health systems of the EU. In the first part, we present the development of various systems of social security – systems which aim to ameliorate the conditions of persons who are in need. More specifically, we study the various attempts at preventing the reduction of the wages of working people – a reduction which may occur as a result of savage competition practices – and so to avoid the deterioration of their standard of living, as well as the standard of living in the other member-states, in general. Furthermore, we give an account of the statutory protection of the working people, as it derives out of the clauses of the Treaty of Maastricht, as far as their rights are concerned and an extensive report of their social security. Finally, we study the inequalities in the level of contribution which the workers pay for their health insurance which differs a lot from one insurance organization to another, and how this depends on the standard of living of a country. In the second part, initially we define the meaning of the concept of health system and, in a sense, we give an account of the health systems of the EU. Furthermore, we are concerned with the attempts to reduce the financial degradation of citizens-patients and the destructive cost of the health system. We are also concerned with the reforms which are under way and which aim at a reduction of the costs of operation and at an increase of efficiency, in terms of quality and proven use of the distribution and use of resources. Finally, we attempt to correlate the index of the standard of living of a country with the percentage of that country's state contribution to social insurance. In the third part, we study the population changes of the demographic pyramid of the EU. This part of the study is concerned with the changes in the rates of fertility, mortality, working population, old age, low birth rates (weddings – divorces) and the age pyramid of the population.
Language
Greek
Collections