Σχεδίαση και ανάπτυξη εκπαιδευτικού λογισμικού "Σταυρόλεξο - Κρεμάλα" = Design and development of educational software "Crossword - Hangman"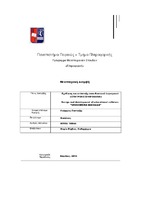 Author
Πανταζής, Γεώργιος Ν.
Date
2014-05-28
View/Open
Abstract
The thesis was produced as part of the graduate program in Informatics (ΜΠΠΛ «ΠΛΗΡΟΦΟΡΙΚΗ») of Piraeus University under the supervision, guidance and support of Professor Ms Virvou Maria. The object of this project is the design and development of an educational software Crossword-Hangman. This educational software is designed and implemented based on the combination of classic games of hangman and Crossword after the student called to the word (gallows) after being given a description of it (Crossword). The objective of this courseware is to provide a more engaging, productive, efficient and fun way of learning spelling along parallel learning keyword and description of these concepts. It is a useful tool for teachers, as they have the ability to define words which call the student to relate either conceptually or spelling and also has the ability to monitor the performance of each student, based on the type of words socialize and level of difficulty. In this software becomes apparent pursuit of an interactive and constructive communication, reaching out especially to students in elementary and secondary school lacking knowledge of PC operation. We must emphasize that our educational software designed to cover and achieve their learning objectives, teaching and encouraging initiative. The software also offers the opportunity for the student to fit over the capabilities of giving him the option to choose the type of word (verbs, adjectives, nouns) that will work, and the level of difficulty (easy, medium, hard) with designed to suit your personal needs and possibilities in terms of preference and difficulty. So given the opportunity to the student through computer environment to work in a different way, a way which will provide familiarity with the world of computers and new technologies.
Language
Greek
Collections