Can the term structure of petroleum futures be forecasted in weekly horizons ?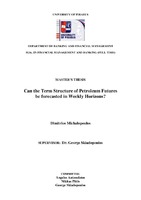 Author
Μιχαλόπουλος, Δημήτριος
Date
2007-12-17
View/Open
Abstract
Modeling the futures curve of various assets is a matter of extensive investigation in financial literature. In the following study we will examine the evolution of the term structure of petroleum futures. Especially, our research will be focused on crude oil, heating oil and gasoline futures traded on New York Mercantile Exchange (NYMEX) and crude oil futures traded on Intercontinental Exchange (ICE). Furthermore, we will use two different approaches in order to derive two models which could have explaining and predictive power over our data set. The procedure of description the oil futures term structure is a point of great interest because it can be used by the energy market participants who aim to use this kind of analysis for hedging and speculative purposes, assuming some specific trading strategies. In a more theoretical academic level there is also a great number of applications including pricing of derivatives and the valuation of parameters related to oil and its byproducts. So, a model suitable to describe the dynamics of future prices curve could have serious impact on the estimation of factors like convenience yields and storage costs, that are of great importance in testing already existing theories and the derivation of new methodologies. As far as our paper is concerned, we will try to estimate the weekly term structure of the petroleum futures mentioned before so as to offer some evidence that would be useful to the pursuit of similar purposes both on economic and academic environment.
Language
Greek