Άμεση ξένη επένδυση στην Κύπρο - Μελέτη περίπτωσης της Jumbo A.E.E.
Foreign direct investment in Cyprus - Jumbo S.A. case study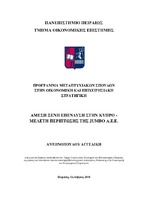 Author
Αντωνοπούλου, Αγγελική
Date
2018-10
View/Open
Abstract
This paper explores the presence of Greek companies in foreign countries, namely the presence of Jumbo retail outlets in Cyprus. The inclusion of Cyprus in the European Union (EU), implied free movement of personnel and / or funds, combined with the favorable tax regime make it an ideal destination with significant opportunities for investment. The recent collapse of the Cypriot economy has been another important factor in attracting foreign investment that one can find cheap labor, low taxation, privileged land plots, etc. However, the speed and efficiency with which it managed the economic downturn, showed that the country's momentum is great and is not a randomly-liked destination for many companies wishing to expand. From the listing and analysis of the data for Jumbo and the way it was extended to Cyprus, important and interesting conclusions are depicted on how direct foreign investment can work for the benefit of the company. Expansion of Jumbo in Cyprus is considered a successful operation of the company's management, as it is a market that has contributed positively to the Group's results in recent years, with only 5 stores managing to be the largest market for the Group after Greece. Through an extensive literature review of the issue and facts from a case study of direct foreign investment, there is an opportunity for an in-depth understanding of the strategic importance that a business may have choosing this way of international expansion.
Postgraduate Studies Programme
Οικονομική και Επιχειρησιακή Στρατηγική
Department
Σχολή Οικονομικών, Επιχειρηματικών και Διεθνών Σπουδών. Τμήμα Οικονομικής Επιστήμης
Number of pages
98
Language
Greek
Collections