Κέντρα διανομής: μια ακριβή λύση ή μια πρακτική εξοικονόμηση κόστους;
Distribution centers: an expensive solution or a cost-saving practice?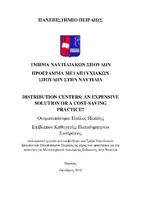 View/Open
Abstract
Aim of this master thesis is to examine how Distribution Centers have evolved as an essential part in supply chain management and logistics system, and are an improvement from traditional warehouses. They play various roles such as: (1) make bulk/bulk consolidation center, (2) cross-dock (CD), (3) transshipment facility, (4) assembly facility, (5) product-fulfillment center, (6) depot for returned goods, and other miscellaneous roles. But also Distribution Centers are an essential part for Maritime business, because shipping companies store the spare parts for their vessels so as to deliver to them through distributors. Storing spare parts in their own premises or sending them directly from the makers, when they have them ready, it is very difficult and expensive. Through a questionnaire, which purchasing/supply departments of shipping companies answered, we can come to a conclusion if the use of distribution centers saves costs for shipping companies.
Postgraduate Studies Programme
Ναυτιλία
Department
Σχολή Ναυτιλίας και Βιομηχανίας. Τμήμα Ναυτιλιακών Σπουδών
Number of pages
83
Language
English
Collections