Ανάπτυξη Android εφαρμογής "Πρώτες Βοήθειες (First Aid)"
Development of Android application "First Aid (First Aid)"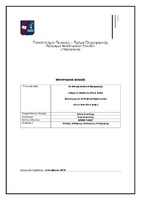 View/Open
Abstract
The aim of this thesis is to utilize the capabilities that mobile smartphones provide -in particular the Android operating system - in order to develop an application for mobile devices. This application's purpose is to help out the user in a case of emergency, by providing him the imperative information regarding medical first aid. The application disposes various operations that serve the purpose, such as separate and different audio instructions, registered phone numbers of emergency, patient medical history etc. Beyond the application itself, a database was created as well, wherein the medical record of the user is saved. Once the application took its final form, it was handed out to university students for extensive testing. This testing usage of the application under real conditions assisted in the revision and the enhancement of it. The first reactions were encouraging and useful comments were received. Initially, the key features of mobile phones are mentioned, and specifically, a retrospection of mobile phones, what constitutes a mobile phone, which operating systems occur, and as well as, the number of sales of mobile phones. In the next two chapters, we are looking into the Android operating system by reviewing it. This was carried out through the description of the Android architecture and its versions. In the fourth chapter, are presented the requirements for the application development and the tools that make the programmer's life easier. Afterwards, the planning and implementation of the application are presented, which was developed for the purpose of this thesis. In the end, the writer's conclusions and ideas are cited for the potential future development of the application as the codes used by the writer/student are written in the appendix. And, finally, the main objective of this application was, probably, the learning of programming in an Android environment. This was fulfilled at a great scale as a lot of different elements of Android were used, such as TextViews, ScrollViews, WebViews, EditTexts, Alert Dialogs, ImageSlider Spinners, and Tabs, Toast Messages, among others. A special attention was paid on the User Interface of the application, too, in order to be visually attractive to the user as an application of the Android Market.
Postgraduate Studies Programme
Πληροφορική
Department
Σχολή Τεχνολογιών Πληροφορικής και Επικοινωνιών. Τμήμα Πληροφορικής
Number of pages
146
Language
Greek
Collections