Διαχείριση αποθεμάτων "Πρόβλεψη ζήτηση στο Ειδικό Κέντρο Εφοδιασμού Μονάδων Στρατού"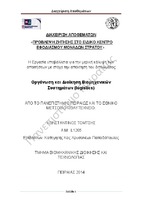 Author
Τόμτσης, Κωνσταντίνος
Date
2014-10-31
Abstract
The military service, although a pioneer in the use of new practices and methods in various fields, particularly at the beginning of the century, now faces difficulty in importing and adopting innovative processes. The Supply Chain Management of the military service (scope and development of the supply chain) was the first agency that adopted the principles of logistics, while providing high quality services to combatant sections of the army. The objective of this study is to improve the inventory management of Special Supply Centre of Army Units. The basis for this effort has been experimenting with methods of forecasting demand ten codes stored on E.K.E.M.Σ. The selection of these codes was made after ABC analysis, applied to all products that were run in 2013. The Special Supply Centre of Army Unit is a standard unit of the Greek Army Supply and Transport Corps, which faces daily problems associated with the procurement, receipt, storage, maintenance and distribution of supplies to military units. This paper focuses on the fields, applicable to Central warehouse of E.K.E.M.Σ which receives supplies and materials involved in wholesale, supplies and materials to supply modern supermarket for customer retail sales, and other branch selling cigarettes, delivering fresh supplies of military stores and outlets. For purposes of the survey we use data relating to sales of goods of the years 2012 and 2013 as they delivered the service computerization of E.K.E.M.Σ. With these data, and sales in 2013, an analysis by pareto after export data codes that generate the bulk of revenue attempts to predict demand for a period of year 2013. Then, after performing the demand forecasting with different methods a comparison takes place with actual demand period considered and draws conclusions about the method accurately approximates the actual data.
Postgraduate Studies Programme
Οργάνωση και Διοίκηση Βιομηχανικών Συστημάτων
Department
Σχολή Ναυτιλίας και Βιομηχανίας. Tμήμα Βιομηχανικής Διοίκησης και Tεχνολογίας
Number of pages
172
Language
Greek
Collections