Πληροφοριακό σύστημα ανθρωπίνων πόρων I.T.M.S.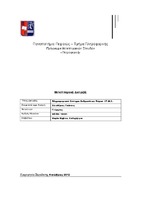 Author
Γκάτσος, Ελευθέριος Γ.
Date
2013-10-29
View/Open
Abstract
This thesis as a result of my internship at Bank of Greece. I created an information system (software) on human resource management focused on employees' computer characteristics. This program is connected with a database where the administrator can search for, add, update and delete data. There is also a built-in web browser in the program available for the administrator in order to search information through the internet. Much emphasis has been given at user interface and at user friendliness. In every form the program displays explanatory messages and hints above every button in order the administrator better understand the functionalities of the software. There is also Help available if something is not clear at the instructions. This report includes an introduction where I explain a little more the program and why I created. After this I made a field review where I found similar programs which are described. I also found some really interesting articles in order to inform the reader of this report about general aspects of human resource science. Afterwards I present you the whole system and its functions in other words the user's manual. Thereafter I wrote about the technical details such as the programs used in order to build the project. In this section there is also software analysis with UML diagrams. Finally there are the conclusions of this thesis and its future extensions.
Language
Greek
Collections