Μοντελοποίηση επιχειρησιακών διαδικασιών με χρήση των μεθόδων BPMN και BPMS σε περιβάλλον "ADONIS:CE"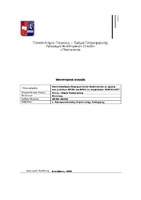 Author
Καλογεράκη, Ελένη - Μαρία
Date
2011-09-26
View/Open
Abstract
This master thesis describes an implementation of modeling business processes of a service agency using BPMN and BPMS methods in ADONIS: CE interface, while it draws conclusions on the importance of generated information. The case study, materialized for this implementation, is an item taken by the educational processes of the National School of Public Administration (ESDD) that is an educational branch of the National Centre of Public Administration and Local Government (EKDDA). Modeling business processes is a project of fundamental importance in the fields of business process management. Business Process Modeling can be a very useful tool as a model management platform for enterprises; and this, not only for the purpose of exporting short term business qualifications reports, but also for the provision of long term skills of business evolution. It definitely helps improving management abilities, suggests effective ways of organizing and programming, introduces more convenient verification techniques, detects lack of functions, proposes new methods in business processes reengineering, assists the operator to realize the necessity for more efficient management of working time. In the modern, demanding operational environment, business process management broadens the knowledge fields of enterprises, enhances innovation skills and consequently invests in Research & Development of greater economy, thus improving the quality of the human life.
Language
Greek
Collections