Energy geopolitics an geoeconomics in shaping the USA's geostrategy in Asia after the "shale revolution"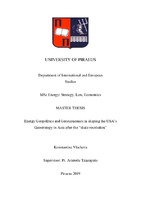 Author
Βλαχάβα, Κωνσταντίνα
Vlachava, Konstantina
Date
2019
View/Open
Abstract
The aim of the thesis is to highlight the role of energy in securing the American interests across the globe and to distinguish how the "shale revolution" has equipped the United States with new tools for geoeconomic statecraft. After the "shale revolution" the U.S. is on track to become a global energy superpower, becoming more immune against states that use energy as a diplomatic weapon, but not against international developments in the energy markets. It has also possibly acquired a new foreign policy tool. The U.S. geostrategy lies in 6 basic pillars: stay number 1 in power; prevent the unity of Eurasia; maintain the free movement of goods in the international lanes; protect energy resources; stop nuclear proliferation; suppress terrorist organizations which threaten the USA. Energy developments affect and are affected by all of these different aspects of U.S. interests, some of those in a greater extent than others. The energy landscape is different than it was a few years ago. The U.S. is the larger energy producer, while Russia and the Middle East see their dominant position in the energy game diminishing. On the other hand, China, a rising superpower that has made great effort in advancing its military capabilities and one of the strongest players of the geoeconomic game poses a threat to U.S. hegemony. That means that in this new reality, some aspects that have to do with the U.S. foreign policy need to be reconsidered and re-evaluated. Energy is a very importan geoeconomic tool, as it is not only a commodity to be traded internationally, but also a very important strategic weapon, that can be used in different ways to achieve both economic and foreign policy objectives.
Postgraduate Studies Programme
Energy: Strategy, Law & Economics
Department
Σχολή Οικονομικών, Επιχειρηματικών και Διεθνών Σπουδών. Τμήμα Διεθνών και Ευρωπαϊκών Σπουδών
Number of pages
62
Language
English
Collections