The evolution of cyber terrorism and a possible electronic Pearl Harbor; the case of Stuxnet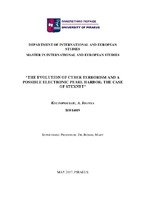 Author
Κουφοπούλου, Ιωάννα Α.
Koufopoulou, Ioanna A.
Date
2017-05
View/Open
Abstract
If you consider for a second the radical technological evolution, you will realize that our everyday life has changed dramatically the recent years. Not only at the electronic level of evolution but also at the personal communication. A new era has already started and requires crucial reforms to our everyday life, and to the political, social, military, economical aspects. This sudden change of scene has affected significantly the way we work, we communicate and socialize, the way we inform ourselves about the news, and even when we do the housework. From this revolution, the existing structures cannot respond to these technological evolutions, our thoughts and actions should be adapted to the radical changes and create, for example, new political and economic norms. If someone cannot follow the way technology evolves, he or she will stay in the dark and lose the arsenal at the cyber war. Of course, the military security of a state could not stay aside from the technological route. From the 90's, electrical grids, data, malware, hardware and software are some vivid examples of the alterations that had been made in the military area. A state cannot concentrate only on the military's physical appearance, but should consider the intelligence and espionage part of a war. The attacker could be a terrorist, a hacker or maybe an activist that tries to spread his/ her ideas and create panic. It is crucial for a state's security to defend first its citizens and its critical infrastructures. The "sophisticated use of communications" (NATO Website) has altered the way an armed conflict flares. Cyber-attacks, cyber espionage, stealing governments' information are few examples of the new form of terrorism which, most importantly, hides a political motive. The weaponized malware introduces a new type of war, Cyber Warfare and Cyber Terrorism. The attackers with their digital weapons, such as worms, viruses and Trojans can affect not only the defense of a state but also the civilians' life, their opinion on a matter. The leak of vital information to the public may cause panic and armed riots. If people think that the government has manipulated them, they will revolt against it. The attacker may not be limited to cyber-attacks or stealing information, but use public cameras or private ones from laptops for surveillance reasons. He could use the information recorded to threaten the victims with the videos going public. This big new game in cyberspace has many aspects, many that we have not discovered yet, and everyone, especially the states and academic community should plan and promote solutions and defense mechanisms. For the attacker, is not necessary to have a physical appearance in the arena of Cyber War but he needs only a computer for his offense, for his whole plan. Without risking his life and spending a large amount of money, he will offend his target and win the battle. His real identity will remain anonymous by using temporary nicknames and guest names, the Darknet and a variety of cryptography mechanisms, making difficult for the intelligence and security agencies to track down his location and his real personal information. Thus, it is important to address the arising problems of the new era as soon as possible, with the technological evolutions and threats. However, the weaponized malware is not the only aspect of Cyber Warfare that should notice. Social media have entered vividly to personal communications. In a matter of seconds, people can be informed from their mobile phone, their tablets or laptops while they work, walk or entertain. The rapid spread of information has revolutionized the cyber era and made people media consumers and victims of worthless information. Their personal identity and their desires are shaping according to the global trends that social media present. Mobile applications introduce people to national and international news, help them communicate and share their thoughts for a variety of subjects. Unfortunately, their identity is exposed to the internet, shaped from the desires that the international community presents and losing their real personal identity, without knowing the threats. It is well obvious that the variety and number of targets are enormous and the future victims are not aware of the cyber dangers and how vulnerable they are against the new cyber threats. As Brian Solis stated, "Social media is about sociology and psychology more than technology" (Brian Solis, "Social Media is About Social Science Not Technology", March 14, 2012). Because of the multiple audiences, the feelings of terror and the brand awareness, an information vacuum has been created to this new era. Social sciences are now in need to face the current and future challenges in cyberspace. The traditional social sciences will help promote innovative solutions and ideas, evolve the current political framework and improve the current governmental structure. They will be used as a theoretical basis for the analysts to promote their ideas and propose multiple solutions to the threat of cyber –attacks. With respect to human rights, the academic community must set an analytical framework, deepen her research and suggest ideas for the regulation problem in cyberspace. All levels of governance, political, economic, military, and social must be evolved according to the latest technological developments and in parallel with the technological modernization. With the alterations at the international and national framework, many states have emerged as the first cyber powers. States are trying to evolve technologically without losing their national identity and stay behind to the electronic weapon arsenal. In an international system where "war of all against all" dominates (Thomas Hobbes, "Leviathan", 1651), the need for political and social recommendations is demanding. The emerging cyber powers and states trying to follow the technological evolution, in cooperation with the private sector, should share information upon the attackers, their methods and their targets. Secrecy concerning security issues will not help a unified cyber strategy against attackers and develop the necessary structure for the new cyber era of connectivity. Victims of cyber-attacks should go in public and share their experience upon the new threat, how it has affected its function and how the defenders could collaborate with other actors to retaliate against the terrorists. Often people say that those cyber threats are exaggerated and there is no risk for the state's and civilian's security. But who will take the risk and ignore the uprising threats? Who will ignore that these cyber-attacks gain access to many critical infrastructures, steal confidential information, take control and cripple of electronic systems? This ability to attack critical infrastructures such as military electronic documents, water supply infrastructures, banks and many more, in a terrorist's hand or a group of terrorists may have significant consequences to regional and national security - sovereignty. It is unavoidable that new vulnerabilities at electronic systems will be discovered constantly, but that does not mean that governments should stop promote their national defense strategy and build step by step cyber defense measures to prevent further consequences of the cyber-attacks. It is common that an actor (terrorist or hacker) will want to intrude military infrastructure, hack a bank or steal personal information of a well-known person for several reasons (political, religious, ideological reasons). A government cannot defend itself against cyber- attacks. But the damage caused could have irreversible results to the state and its bone structure. Thus, states must harden to the newly threats and prevent denial of services from taking national systems getting done to their knees, prevent the manipulation of national critical infrastructures and the spread of panic. No one can dare to ignore that if cyber weapons are in hands of a terrorist will have immeasurable results to the electronic function of a nation and letting the attacker succeed his target. No one knows how destructive an attack of cyber warfare could be.
Postgraduate Studies Programme
Διεθνείς και Ευρωπαϊκές Σπουδές
Department
Σχολή Οικονομικών, Επιχειρηματικών και Διεθνών Σπουδών. Τμήμα Διεθνών και Ευρωπαϊκών Σπουδών
Number of pages
111
Language
English
Collections