Διερεύνηση ικανοποίησης μεταμοσχευμένων νεφροπαθών από την ποιότητα υπηρεσιών υγείας του Γενικού Νοσοκομείου Αθηνών « Λαϊκό »
Perceptions of healths services' quality and satisfaction of transplanted renal patients of the General Hospital of Athens "Laiko"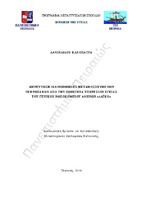 Author
Δανιηλίδου, Κλεοπάτρα
Date
2010
View/Open
Abstract
The concepts of quality of health services and patient's satisfaction often identified as identical, as both concepts involve common and interrelated issues. Patient's satisfaction as an individual definition of quality preclude identification with the concept of quality, breaking this misconception. The purpose of this study was the assessment of the satisfaction of the transplanted renal patients from the health services of the General Hospital of Athens "Laiko". The study took place in Athens in October-December 2008, and the sample was composed of 123 patients, which was selected by sampling feasibility. To assess satisfaction was used by a structured questionnaire, which was supplemented by the method of self-reporting by patients themselves. The sample of transplanted renal patients has been enough to satisfy all of the services at 43.2%, enough satisfaction from the medical and administrative staff at rates 30.3% and 25.8% respectively, while the nursing staff says so very pleased at the rate of 33.1%. The results on the infrastructure of the hospital suggest little satisfaction, especially in the areas of environment and cleanliness at percentages 35.2% and 34.4% respectively. All services of the hospital appears to satisfy from several to very much the sample of transplanted renal patients, while the targeted issues identified to improve the parking, the cleanliness of premises and the environment, and psychological support from the medical staff. In conclusion the total level of satisfaction seems to depend mainly on equipment and technology, communication and the availability of doctors, the appropriate timing of the hospital and the waiting time.
Postgraduate Studies Programme
Οικονομικά και Διοίκηση της Υγείας
Department
Σχολή Οικονομικών, Επιχειρηματικών και Διεθνών Σπουδών. Τμήμα Οικονομικής Επιστήμης
Number of pages
137
Language
Greek
Collections