Development of a biomedical image analysis framework, based on web services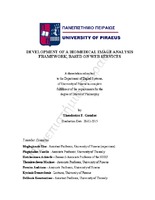 Author
Γούδας, Θεοδόσιος Ε.
Goudas, Theodosios E.
Date
2015-02-20
View/Open
Abstract
Data mining of biomedical images is a complex task, because it requires several steps, like color adjustment, image filtering, segmentation, feature extraction, characterization, etc. and appropriate calibration on each of them, so as to achieve a satisfying result. This Ph.D. thesis focuses on the development of a framework, containing the necessary data mining and image analysis techniques, organized into entities-operators, capable to deal with the complex biomedical data mining tasks. The proposed framework enables the building of workflow schemes, capable of dealing with these mining tasks. Furthermore, it enables the generation of multiple workflow versions of the core workflow scheme by combining all the operators with each possible way and auto- selecting the optimal one. In this thesis, a number of applications, exploiting web services and applying ontological modelling are presented, allowing the intelligent creation of image mining workflows and the optimal workflow scheme selection for each of them. The choice of the optimal workflow is based either to the comparison with the ground truth, or via the log-likelihood distance metric of the clustered salient objects. This biomedical image analysis framework may require advanced knowledge of data mining and image analysis theory, but it requires only fundamental programming skills for the development of an intermediate level workflow scheme. It can be directly integrated to TAVERNA or similar workflow management platforms. Additionally, the biomedical problems examined during this thesis and their corresponding solutions are also presented. Each of the proposed image mining methodologies utilizes the developed framework. All the proposed methodologies achieve satisfying performance through the proposed framework. Furthermore, some additional image mining scenarios are applied through the framework, demonstrating the optimal workflow proposal mechanism.
Department
Σχολή Τεχνολογιών Πληροφορικής και Επικοινωνιών. Τμήμα Ψηφιακών Συστημάτων
Number of pages
255
Language
English
Collections