Η ποιότητα υπηρεσιών υγείας στα εξωτερικά ιατρεία του Γενικού Νοσοκομείου Αθηνών "Γ. Γεννηματάς": διεύρενση ικανοποίησης ασθενών.
The quality of health care services in the outpatient clinics of General Hospital "G. Gennimatas" of Athens patient satisfaction research.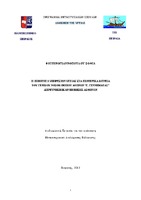 Author
Φωτεινογιαννοπούλου, Σοφία
Date
2015-05-26
View/Open
Abstract
OBJECTIVE: Measurement of patient satisfaction with the healthcare services provided by General Hospital of Athens and estimation of the gap between the different demographical groups for the effectiveness of the hospitals. METHOD: A total of 415 patients were enrolled in the study, using a random sampling method. Satisfaction was measured with the use of a four-point scale in which the score of 0 represented complete dissatisfaction and 3 complete satisfaction. Questionnaires were filled out by personal interview, during the period February- March 2013. RESULTS: Altogether, 78.5% of the patients were completely dissatisfied with the experience provided by the hospital about their health problems, the diagnosis and the treatment, and stated that they were not asked to give their consent for any treatment. The 75.3% of the patients were completely satisfied with the environment of the hospital, 91.8% with the care of nurses and the 91.6% with the medical care. No significant differences exist between two sexes, but younger participants and higher educated are less satisfied by the services of the hospital. CONCLUSIONS: The evaluation of patient satisfaction revealed that the general profile of the hospital is affected by the doctors, nurses and the environment of the hospital. Patients require specialized anthropocentric healthcare services, and demand satisfaction of their basic rights, such as receiving information, giving consent and respect of their individuality. They rate highly the understanding, politeness and specialized knowledge of the hospital personnel.
Language
Greek
Collections