Οι συγκρούσεις στον χώρο της εργασίας και ο ρόλος της συναισθηματικής νοημοσύνης στην διαχείριση τους: μελέτη της περίπτωσης του Ε.Ο.Π.Υ.Υ.
Conflicts in the work place and the role of emotional intelligence in conflict management: a case study (National Organization for the Health Services Provision)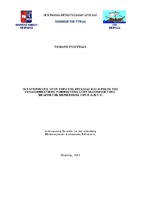 Author
Τζιβάνη, Ευαγγελία
Date
2015-05-21
View/Open
Abstract
The present study refers to the phenomenon of conflicts in the workplace and the content of emotional intelligence, as well as the role that the latest can play in the productive management of conflicts. The data used in this study has been obtained by carrying out a survey based on 128 questionnaires which were distributed to employees in the National Organization for Health Services Provision. The results proved that conflicts are common in a workplace with a negative impact to employees and the way they feel about their workplace. Moreover, the survey showed that employees have a high rate of emotional intelligence, which is not related to their sex. As far as the preferred method of conflict management is concerned, it was found that "collaborating" and "avoiding" are the most preferred methods by the employees, with "avoiding" being the first choice of the workers aged over 56 years old and "collaborating" being preferred by workers aged 25 to 35 years old, a higher percentage than that of the other age groups. Another significant result of the survey is that employees choosing to use the method of "collaborating", tend to have less negative influence in their job by the conflicts, while those who use "accommodating" tend to be more affected. Finally, it was found that the bigger the emotional intelligence one employee has, the less negatively affected he is, referring to the way he feels towards his job due to conflicts. Having in mind the productive function of the National Organization for Health Services Provision, training the employees on constructive conflict management (referring to conflicts among employees and between employees and citizens) and on upgrading the abilities of emotional intelligence, appears to be crucial for creating the necessary base on which the competitive presence of the Organization could be built.
Language
Greek
Collections