Το άγχος του μάνατζερ στις υπηρεσίες υγείας.
Anxiety of the manager in the health sector.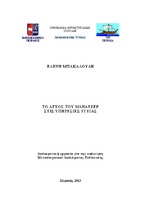 View/Open
Abstract
One of the most discussed concepts of our time is the concept of stress. Everyday we try to identify what we feel but can not accurately understand it is stress. Stress is a state with two faces: one that motivates the individual to self-improvement and efficiency and the second generates pressure that impedes functionality, and as the root of the word "ancho" implies, mental and physical distress. This paper addresses the issue of stress in employees of the administrative sector and in particular the manager in the health sector. This study aims to investigate the factors mainly related to stress. The methodological approach followed is, first the theoretical investigation of the problem and secondly the research analysis. Specifically, in the first part of the paper explains the term anxiety and related concepts, and also has references to the syndrome of burnout and job satisfaction. We then examine the sources of stress for both the manager of health and for administrators who serve in the health sector, and an analysis of stressors in the profession. The second part consists of the research that followed. The survey was conducted in February 2013. To identify the factors affecting the quality of working life of administrators and health exhibit anxiety behavior and signs of burnout used information collected through questionnaire of two private health units, the Obstetrics and Gynecology clinic Rea and the Onassis Cardiac Surgery Center in sample administrative staff positions with office staff, managers and senior managers. In conclusion, the statistical processing and analysis of data shows that the effect of stress is a catalyst for the poor quality of working life of individuals and the reason for the presence of occupational burnout and unsatisfaction of employees in the health sector. Furthermore, we confirm that such senior supervisors and managers are experiencing stress more intensely and more because the needs of a leading position in the workplace has many requirements. At the end we present suggestions for the improvement of working conditions and suggestions on how the manager of health can become more efficient by moving aside the stress.
Language
Greek
Collections