Οικονομική δραστηριότητα νοσοκομείων και δαπάνες υγείας σε χώρες της Ευρωπαϊκής Ένωσης.
Economic Activities of Hospitals and Health Expenditure in Countries of the European Union.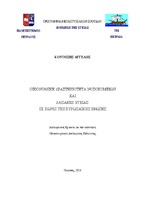 View/Open
Abstract
The sector of Health is one of the most sensitive and complicated sectors of the economic life of a country. The high level of public health is a point of prosperity, but in the same time it requires the consumption of many resources of the administration system of any government. The complexity is due to the fact that many entities are engaged (i.e. doctors, patients, government, insurance institutions etc.). Many factors also affect the process of providing health services. The effort to preserve access to health services by all citizens, which is a social gain, combined with concepts such as cost, which are totally opposite, is a challenging field both for the researchers and the government, which tries to combine the best mix of cost and quality of the services provided. The aim of this thesis is to indicate a model of relationship between the efficiency of a health system and the health expenditures that are needed to fund it. The efficiency is counted by indicators of hospital activities. Our effort is to find all these factors of efficiency that affect health expenditure. To achieve this goal, we studied the statistics of seven statistically reliable countries of the European Union (Denmark, France, Germany, Italy, Portugal, Spain and United Kingdom) for a time-series of 23 year (1988-2010). The data is panel data. We used the method of analytical regression to identify the econometric model which expresses better this relationship.
Language
Greek
Collections