Ανάπτυξη δημόσιας τράπεζας φύλαξης ομφαλοπλακουντιακού αίματος: θεματα διοίκησης και διαχείρισης.
Establishing a public cord blood bank: management issues.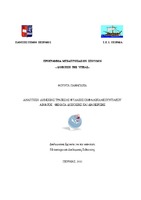 View/Open
Abstract
The bone marrow transplant is the only effective treatment for a range of diseases such as hematologic malignancies, solid tumors, and many inherited disorders of the hematopoietic and / or immune system. In the classical method of hematopoietic stem cell transplantation (HSCT) donors' bone marrow is used as a source of hematopoietic stem cells (HSCs), which are needed to replace the patients' bone marrow recipient. Discovering in the mid 70's, that HSCs are contained in umbilical cord blood (UCB) led to the first hematopoietic cell transplant with UCB transplant, in 1989. The capability of collecting and maintaining UCB in cell banks resulted to more than 20.000 UCB transplants worldwide, to date, with great success. The cord blood banks provide services including collection, preservation and processing of blood from the umbilical cord and placenta of newborns, in order to isolate HSCs for future therapeutic use. The purpose of this paper is to report on requirements for the establishment of a public UCB bank as well as how it is organized in order to carry out important work for the community. The work consists of four chapters. The first chapter is an introduction to transplantation refering to basic concepts in the field. Then comes the second chapter which speaks for storage of UCB-HSCs in cell banks, about types of banks exist and the conditions needed for the operation of such banks. The third chapter will refer to the organizational structure of a public UCB bank in accordance with current European institutional framework. In the fourth chapter we analyze the economic and the financial cost of operating a public UCB bank. The methodology was based on literature review and electronic sources.
Language
Greek
Collections