Ποιότητα υπηρεσιών υγείας. Μέτρηση ικανοποίησης των επισκεπτών των ιατρείων του Δήμου Παλαιού Φαλήρου.
Quality of health care services. Measurement of patient satisfaction in the clinics of the municipality of Paleo Faliro.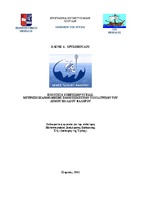 Author
Χρυσοπούλου, Ελένη
Date
2015-01-20
View/Open
Abstract
This present thesis aims to explore the views of visiting patients in Municipal Clinics of the Municipality of Paleo Faliro on the quality of health services provided by the Municipality, given the changes that occurred in the operation and responsibilities of the Municipalities under the project Kallikrates. Trigger selection of the particular topic of the thesis were the economic developments worldwide and the extent to which the health sector is affected, mainly the Primary Health Care. Often reference is made to the developments and changes which will be made to the Health sector, by decentralizing the medical and nursing services and increasing the responsibilities of Municipalities. Such a venture is arduous and time consuming and depends purely on the dynamics of each Municipality and the existence of properly structured Municipal Clinics. The study of the views of medical and nursing service users aims to improve the quality of health services from the Municipal Clinics, as the key elements of quality are related to the human resources, the organization, the procedures and the test results. The measurement of patient satisfaction I is a key indicator of quality and effective services. The methodology used was the extensive literature review and research visitor satisfaction in the clinics through a modified, according to the needs of the Municipality, structured questionnaire. The results are quite satisfactory, giving the message that volunteering on the part of doctors and the effort of the Municipal Authority to meet the needs for Primary Health Care can bring benefits to the proximal population. The results of the research are directed to the Development of Health and Welfare of the Municipality of Paleo Faliro in order to investigate and assist in helping to meets the needs of citizens.
Language
Greek
Collections