Φροντίδα υγείας και ελληνική ορθόδοξη εκκλησία: αναζήτηση της διαχρονικής συμβολής.
Health care and greek orthodox church: the longitudinal contribution search.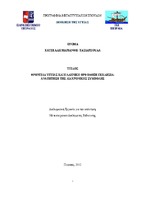 Author
Χατζέλλη, Μαριάνθη - Ταξιαρχούλα
Date
2015-01-14
View/Open
Abstract
Description: The Church, is rightly considered the most decentralized institution providing social protection, especially with the distinction of levels of provision. The Church of Greece, apart from its spiritual mission, fulfills an important social function in a variety of areas such as Health, Welfare, Education, Culture. The provision of medical care as we know it today, has its roots in theology (the relationship between God and man), philosophy, moral virtues and spiritual values, and finally, scientific knowledge and technology. The Church is a hospital, which offers the opportunity to people to move from the state of a person in the state of a special individual. The contribution of the Greek Orthodox Church at all levels of health care is timeless. It offers the utmost to provide as many services as it can, to all walks of life. The importance of health for the orthodox Christian theology and tradition, we see it first at Jesus' response to the demands of all those who were addressing to him to heal them. Results: To understand the action of the Church in the matter under study, it should be noted that the Church provides welfare services, which are not based on the principle of reciprocity. The Orthodox Church treats people, and this is achieved with orthodox theology and the whole method of treatment in humans. The medicine, by treating man properly, can serve the will of God. If God wants to combat various diseases, any scientific progress that tends towards that goal, does nothing more than to express the will of God. So, how should we act in order God's love to be the real foundation, on which we built all our relationships and especially to those, who suffer from illness or disability, are key questions that concern every member of the Church and much more each of you, that bring medical status. Conclusions: The Christian Church and especially the Orthodox, relieves humans from illness and pain. It developed a network of health services and care. It had specific people and specific ministries, founded hospitals, hostels, monasteries, trained staff that was devoted to the patients. The Greek Orthodox Church contributes to relieve the physical and psychological pains from people to be well. For this reason, it welcomes all efforts to cure disease and prolong life, which is critical for the spiritual perfection of man.
Language
Greek
Collections