Ισχύον θεσμικό πλαίσιο και διοικητική οργάνωση των ιδιωτικών κλινικών στην Ελλάδα.
Current institutional framework and administration of private clinics in Greece.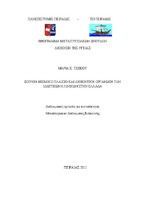 View/Open
Abstract
The purpose of this study is to present the institutional framework governing the establishment, operation and administrative organization of private clinics in Greece. For the analysis of the institutional framework were used as primary sources the Presidential Decrees issued and the laws that have been voted from the Greek state. The collection of primary sources was made from the archive of the Ministry of Health, the library of the Greek Parliament and the library of the Council of State. The search showed that basic tools for licensing and operating a private clinic are the Presidential Decrees 247/91 "Terms, conditions and procedure for the establishment, operation and transfer of private clinics", 517/91 "Technical specifications, medical equipment, discrimination and mix of staff and filling of No 247/91", 235/2000 "Special arrangements for the modernization and operation of private clinics" and 198/2007 "Modification of the Presidential Decree No 235/2000". The Presidential Decrees presented contain provisions concerning the definition of private clinics, the distinction and power of them, the development of nursing parts, the operating specifications of the operating parts/ workshops/ services that compose it, the process required for licensing establishment and authorization, service of non-hospitalized patients in either emergency or performance of laboratory tests and the administrative and scientific management of the clinic. The study of these presidential decrees and laws from which they take legal basis revealed a rigid framework that makes it very unattractive to private involvement in secondary care hospital even if combined with the high cost and long-term nature of investment for the creation of new nursing unit. Also, the high standards around building infrastructure, technology and personal composition as set out in Presidential Decree 517/91 are very costly especially for small clinics resulting in the inability to adapt and exacerbated by the inability of public funds to repay the cost of hospitalization of the insured in small private clinics whose main sponsor is the insurance funds. It also highlights the lack of continuity in the role that the state wants the private sector to play since the government amends key provisions and causes turbulence in the operation of private facilities. These factors are driving the trend in recent years of the prevalence of large groups to provide health services with the acquisition of small and old clinics and the configuration of oligopoly. Developing the framework to mobilize the involvement of venture capital and the development of healthy competition can be a major concern in the policy of the State for private health care. At the same time, should ensure appropriate controls to protect the health and the property of citizens from services in an abusive manner.
Language
Greek
Collections