Τα πρότυπα της Joint Commission International για την διαπίστευση των νοσηλευτικών ιδρυμάτων: μια θεωρητική προσέγγιση.
Joint Commission International accreditation standards for hospitals: a theoretical approach.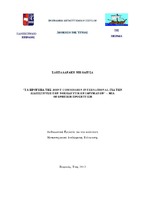 Author
Σακελλαράκη, Νικολίτσα
Date
2014-12-15
View/Open
Abstract
The penetration of quality management systems in the environment of hospital is dynamic. The policies of assurance of quality play an increasingly major role in the health sectors of developed countries. Indicatively there are mentioned the total quality management, quality initiatives, benchmarking, the enhancement of evidence-based care and clinical, medical audit. The development of such mechanisms regarding either individual cases, or in organizational and systemic base, seeks for the achievement of continuous quality upgrade in health services. The constitution of accreditation in health services remains a common worldwide applicable mechanism and more specifically the evolved form regarding the hospital accreditation. The determining role of nursing institutions specifically in the sector of health services requires their improvement and evolution, in order to meet the challenges of the healthcare environment and respond to the needs of the users of the services. The accreditation provides the healthcare organization with the ability for internal reconstruction by matching the implementation of the standards in accordance to the continuity of care and focuses on the evaluation of quality in procedures and the output of the organization. The most widespread established organization for the accreditation of hospitals is Joint Commission International that supports the quality improvement in healthcare by strengthening the healthcare organizations all over the world, the public services, prime ministers and others interested to improve, develop, evaluate and enhance the quality of the patients care and safety in more than 60 countries. The present thesis includes the acquaintance with the Joint Commission International Accreditation Policies and there it follows the description of the standards that embrace policies and procedures, whose compliance will lead to the accredited result of the organization. Standards focus and conclude the whole range, angles and parameters of care and services and are addressed so much to the patients and their family as to health professionals and to the leaders of the organization. Furthermore, in extension to the thorough description of the standards, questions impressed whether if it is feasible for the accreditation process to be included in the Greek hospitals. As it often happens with new, innovative policies, the benefits are balanced by the existing difficulties and hinders. Nevertheless there is detailed and documented experience of accreditation of hospitals and services, provisioning hope that the benefits of accreditation might be established in the Greek nursing sector. However, a coordinated planning must be preceded, necessary to the adjustment to the Greek reality. In conclusion were proposed certain subjective measures related to the preparation of the Greek hospital to accept the accreditation process.
Language
Greek
Collections