Η ηλεκτρονική διαφήμιση ως ένα εργαλείο μάρκετινγκ για τις υπηρεσίες υγείας.
Electronic advertising as a marketing tool for health services.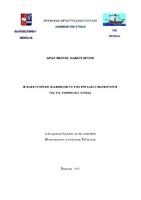 Author
Παπαγεωργίου, Αριστομένης
Date
2014-12-15
View/Open
Abstract
The world Internet usage is ever increasing and the number of users worldwide is now over 2.1 billion, while in Greece, according to the latest Eurostat statistics, one in two Greeks used the Internet in 2011. As a result, the Internet user surfing through various web pages, is constantly exposed to a large amount of electronic advertisings. In 2011, the online purchases of the Greek consumers for products and services reached the 1.7 billion Euros, increasing by 30% since 2010. Nowadays, 1.5 million on line Greek consumers are buying on average 15 times/year through Internet, spending 1,150 € per year, two thirds of which are paid to Greek web pages. What are the attitudes and the opinions of the Greek potential consumers towards these advertisements? How do they feel about them and how do the online advertisements affect their consumer behaviour for health products/services? The answers to the above questions would certainly assist the Marketing people to improve these advertisements so as to achieve maximum effectiveness. The present survey, which attempts to provide some answers to the questions above, was carried out in the areas of Athens and Piraeus, by distributing questionnaires to a sample of 197 persons from November to December of 2008. The theoretical part initially refers to the Internet, its latest data and its penetration worldwide and in Greece. Then, it defines advertising and more specifically the electronic advertising and describes the various forms of electronic advertising. Specific reference is made to the Social Media, whose rising influence on the consumer behaviour of young people especially, turns them into an excellent field for the evolution of the electronic advertising, and to the various forms of Social Media. The next chapter deals with Marketing, the Marketing of services, the Marketing mix of services and more specifically with the Marketing of health services, its purpose and role. The last chapter refers to the conducted survey, its objectives, aims, to the survey methodology, the statistical analysis, the conclusions as compared with existing data and finally to the limitations of the survey.
Language
Greek
Collections