Αποτελεσματικότητα της διαχείρισης κινδύνων στη δημόσια υγεία: ο τομέας ελέγχου ασφάλειας των τροφίμων.
Effectiveness of risk management in public health: the field of food safety control.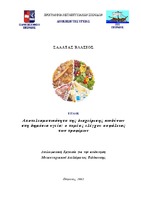 View/Open
Abstract
The importance of food safety and nutrition in public health is an undeniable fact and ineffective management caused large economic costs (Battelle, 2005; Busby, Roberts, Lin, ) and human fatalities (Centers for Disease Control, 2005). So a key role in managing food safety and minimize risks for producing safe food for the maintenance of public health is the official controls by the competent authorities in foods of animal origin which fall within the scope of the requirements of European regulations ( Doménech, 2011). Through the data of the official inspection is possible to draw meaningful conclusions on the risk level of facilities and allows the design target for the treatment of risks may arise. In the coming years while the demand for control of food products will increase due to the economic crisis, free movement of goods (global market), technological developments, socio-demographic changes and will not empower state agencies to conduct inspections as lack of staff and financial resources is no longer greek and international reality. Inevitably, therefore, creates the need for better organization of existing domain controllers to prevent and avoid food scandals such as those presented in previous years and the anticipated crisis in consumer confidence (Banati 2011). Reliable means of assessing risk management can be an analysis of records of inspections which assess the level installations to comply with the requirements of relevant legislation on hygiene and food safety. This study serves to describe all the stages of control that should be followed through the analysis of valid data reports of inspections will try to capture the risk level of meat and meat products establishments of Attica and in expansion will assess the effectiveness of safety management by the competent authorities. The aim of this study is to formulate proposals for better management of resources, reduce costs and reorganize the control mechanism with an expected improvement in the efficiency of service output thus creating the conditions for upgrading the level of population health.
Language
Greek
Collections