Διερεύνηση της διαπραγματευτική Ισχύος των Καταναλωτών στην Αγορά Φυσικοθεραπείας στην Αττική.
Research of Buyers' Bargaining Power in the Market of Physiotherapy Business in Attica.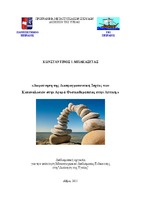 Author
Μπακασέτας, Κωνσταντίνος Ι.
Date
2014-12-02
View/Open
Abstract
Physiotherapy constitutes a field of knowledge that has demonstrated a remarkable progress over the last 20 years. Such a surge gave a positive impulse to the private practice of physiotherapy and led to the entrance of many new firms in the field. In this way competition has been intensified as new opportunities for profits have been brought up. In the present study we explore the buyers' bargaining power in the market of physiotherapy in the wider area of Attica. In doing so, we employ a theoretical and practical perspective. In the theoretical part, we overview the structure of the physiotherapy market, using secondary resources. More specifically, there is an effort to describe the market of physiotherapy focusing on an analysis of the characteristics that shape demand and supply in the market. In our empirical part we examine the buyers' characteristics (profile) and the way that these influence their choices. Thus, the data processed and analyzed in this research are related to those factors that define the strength of buyers' bargaining power and their requirements from the private practitioners and firms. Following this analysis, we try to assess the attractiveness of the investigated market by examining current opportunities and threats.
Language
Greek
Collections