Ανάπτυξη εμβολιαστικού προγράμματος από την τοπική αυτοδιοίκηση της Αθήνας κατά τη χρονική περίοδο 2001-2009.
Development of vaccination program by the local authorities of Athens.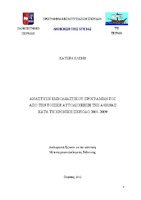 View/Open
Abstract
This work will show you, based on: vaccination program of the Athens Prefecture. The Prefecture of Athens under the authority has developed in recent years in particular programs and initiatives to alleviate social groups in need of protecting the health of various vaccinations. The effort of my work is based on a detailed record of services of the Prefecture of Athens and detailed tables will show the present universal rising health care and quality providers. The acceptance of vaccination health program of the Athens Prefecture and also appears every day thousands of people visit the health services of the Prefecture of Athens and the acceptance of services of provided by citizens. I wish here to express my personal experience, acquired after many months of my presence on the premises of Directorate of Health of the Prefecture of Athens and my communication with people visiting daily the health services for this particular program. I am confident that, as in our country there is shortages of health care initiative by the hospitals, the vaccination program of the Prefecture of Athens and relieves ease thousands of people who do not have the opportunity to visit other services in the field of health. So the second degree local government should be supported financially and has continuously provided to improve vaccination program.
Language
Greek
Collections