Κριτική προσέγγιση των μεθοδολογιών λήψης αποφάσεων στην αξιολόγηση επενδυτικών προγραμμάτων υγείας.
Critical approach to decision making methodology in the evaluation of health investment plans.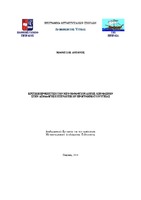 View/Open
Abstract
Efficiency in the last years is the challenge for the scientists who are occupied not only in the health sector, but generally in the financial and social life. With this term, in the health sector, we mean the maximization of the deviation between the quality of services provided and their cost. This close connection between the output of the produced product and the cost, which is widely observed in the financial life, in the public health is more difficult to be counted due to the indirect debts that are produced. The goal of this essay is to combine the cost and the quality characteristics of the alternatives, to be accounted for the suitable decision making in an administrative puzzlement which is executed in the margins of private-monetary, and not of the social evaluation, based on the most popular methodologies. The decisions for materializing the investment plans bind huge financial amounts and the decision for their materializing way, characterizes the future prosperity of the company. The alternative ways of materializing those plans, with the tools that the managements have today, can be evaluated from an objective oriented system of evaluation or even better – as we are going to see – from their combination. Therefore the model of the commission of a medical machine from a private clinic will result in this essay the median for the application of methodologies such as pair wise comparisons, normalized criteria gravity and the discounting factors, which are documenting the final proposal, avoiding if possible problems such as subjectivity and depreciation of money as the time passes.
Language
Greek
Collections